TERRASAT was contracted by ECI/HYER to conduct an aquifer test on two proposed cooling wells for the State of Alaska Archives Museum project.
The State of Alaska Achieves Museum (SLAM) is a museum to house historical Alaskan documents.
Due to the age of these documents, the building must be kept at a constant cool temperature.
TERRASAT Inc., was brought in for their expertise on aquifer testing and cooling wells.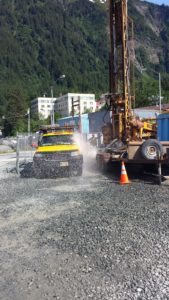 TERRASAT geophysically logged both wells for optimum screen placement before the aquifer test began.
During the aquifer test TERRASAT employed the use of pressure transducers equipped with both temperature and conductivity probes to measure water temperature and to determine the effect of salt water intrusion from the proximal ocean.
TERRASAT found the best hydrogeologic match for the drawdown curves and predicted a maximum pumping rate and duration to assist in future cooling needs.
We also gave recommendations on which well should be employed at the primary and secondary pumping wells based on water drawdown and recovery data from the aquifer testing.
To speak with one of environmental experts about your aquifer testing needs,
Call Terrasat, Inc today at 1-907-344-9370
Additional references for aquifer test standards:
http://www.astm.org/Standards/D5786.htm