TERRASAT provides water quality assessment studies and reporting for a variety of clients.
Some clients require water quality assessments for their planning purposes to show that their land development will have no significant impact to the surrounding community.
Some water assessments are for permitting purposes, such as storm water effluent or mine permitting.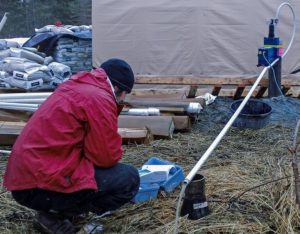 Some clients have landfills that need to be monitored to determine if leachate is migrating away from the landfill.
Landfill monitoring is a special need and TERRASAT uses EPA approved statistical analysis programs to minimize the samples that are required to minimize the laboratory cost.
These investigations yield the highest confidence with the least amount of cost to the client.
We also use a statistical method called hierarchical analysis that greatly reduces the number of analyte samples necessary to determine water quality within a basin or subbasin.
Water quality assessments include both surface water, such as streams, ponds and groundwater using a monitoring well network.
The results can be used to get site closure from contaminated sites or to protect the clients from the risk of leachate migrating from landfills.
Call Terrasat, Inc today at 1-907-344-9370 to discuss your water quality assessment needs.
Additional references for  water quality assessment information:
https://water.usgs.gov/nawqa/protocols.html