Groundwater Monitoring is just one of several services Terrasat Inc. environmental engineers were brought in to provide on the Lucky Shot Mine project in Hatcher Pass, Alaska.
The Lucky Shot Mine is a low-sulfide Au-quartz vein deposit hosted in a Cretaceous diorite intrusion, located 90 miles north of Anchorage in the Willow Creek Mining District.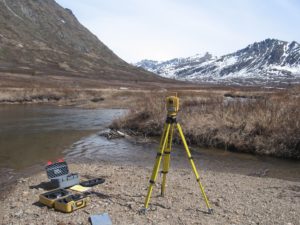 The Lucky Shot Mine operated from 1918 until 1942.
In 2007, Full Metal Minerals discovered a high grade extension of the Lucky Shot shear zone.
Full Metal Minerals retained TERRASAT, Inc. in 2008 to evaluate the hydrology and background water chemistry of the area down gradient of the proposed tailing impoundment for mine permitting.
TERRASAT began a groundwater monitoring program in 2008 and expanded to surface water characterization in 2009.
A baseline suite of analytes were characterized and statistically analyzed to determine aquifer properties by well location.
Two groups of wells showed geochemical correlation and were designed to predict potential releases from the tailings impoundment for the mine permit.
TERRASAT provided surface electrical resistivity geophysical exploration in the area surrounding the mill facility to delineate depths to bedrock and assist in locating a new tailings impoundment.
The results of this investigation provided a new understanding of surface aquifer mapping and allowed optimum placements of monitoring wells that will act as early warning if a tailings pond has a groundwater release.
Results of this investigation located a confined unconsolidated aquifer for water supply to the mill facility.
To discuss your specific groundwater monitoring needs with one of our environmental experts
Call Terrasat, Inc today at 1-907-344-9370
Additional information on references for groundwater monitoring: