TERRASAT, Inc. was retained by Yukuskokon Professional Services, LLC to perform oversight of monitoring well installation and subsequent aquifer testing and geophysical investigation for mine permitting.
The Chuitna Coal Project is a surface coal mining and export development proposal for an ultra low sulfur, sub bituminous coal resource located in the Beluga Coal Field of South-Central Alaska. It is located approximately 45 miles west of Anchorage.
This investigation was conducted to satisfy additional data requirements of the EPA for the Environmental Impact Statement.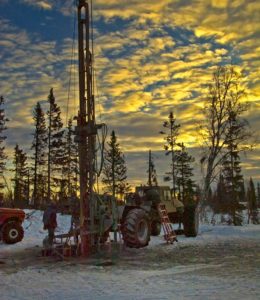 TERRASAT personnel were responsible for identifying and logging the known stratigraphic units and instructing the drilling crews on proper screen placement in units of interest.
Borehole geophysics were applied to optimize well screen placement.
TERRASAT designed and implemented aquifer testing to evaluate aquifer properties for subsequent aquifer modeling and to refine the water balance equation for the project site and mine permit.
Additionally, TERRASAT provided geophysical logging and interpretation of the deep monitoring wells. This investigation provided refinement of the understanding of the underlying stratigraphic contacts, and lithology.
Project Features
Monitoring Well logging and construction
Aquifer Testing
Geophysical Investigation and Interpretataion
Project Duration
March 2011 to May 2011
Project Team
Dan Young, M.A., C.P.G
Jeremy Stariwat, B.S.c., Geological Sciences
Steve Smith, B.S.c., Geological Sciences
For expert guidance with your mine permitting needs,
Call Terrasat, Inc today at 1-907-344-9370
Additional references for Alaska mine permitting:
http://dnr.alaska.gov/mlw/mining/placer.cfm